This is my budgie pumpkin. I drew it and carved it myself. I don't think I'm very good at carving so I'm happy with how all these turned out. The rest behind the cut
(
Pumpkins Ahoy!
Collapse
)
Cross posted from
cucurbitaceae
This is one of the best holiday for us gourd lovers! I have some pictures to share of the neat pumpkins I made this year into jack-o-lanterns.
Current Mood:

cheerful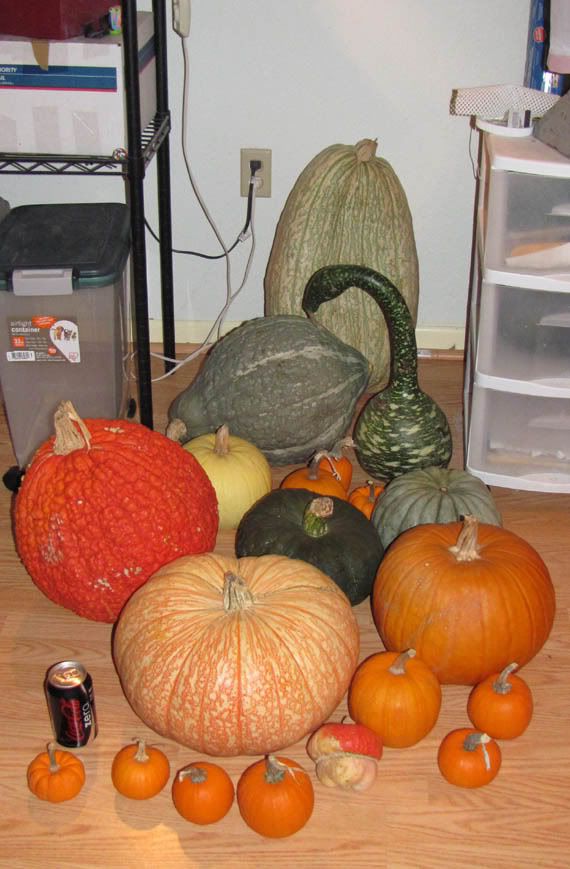 Does anyone have any good easy recipes they could post here for me? I'm a lousy cook so they need to be simple with easy to obtain ingredients. I'd like to make soups or something else. I prefer savory over sweet.
These are the pumpkins I bought for this year. I'm very happy with them and the many varieties that I got. The one in the very back and the one that has netting on it in the front are called One Too Many. I got one Goose Neck Gourd. A green Jamboree pumpkin. A bunch of Little Iron Sides. A huge blue Hubbard in the back, a big red hubbard. One normal Jack-o-Lantern and the others I don't know what they are. Some will be used in pies, others carved and othes left as is for decorating.
Current Mood:

curious
The steps and rules are simple :
1) Message
happy_skeleton
with your mailing info
before october 7th
.
2) Make or buy the halloween postcards you wish to send to other members. You can use artwork, photography, poetry, anything you'd like, to make your postcard, as long as it is related to Halloween or Autumn.
3) Receive a list of all participating members' mailing info and choose how many postcards you wish to send and to whom.
4) Send your postcards
by October 20th
so that everyone receives theirs before Halloween!
Posted on
pumpkin_is_love
,
halloweeeeen
and
halloweenasylum
. ♥
(
Recipe
Collapse
)
Also posted in
halloweenrecipe
Oh my Gourd!!! I found pumpkin deodorant on etsy. Here:
Current Location:

jerk

Current Mood:

chipper
(
pumpkin and gourd heaven
Collapse
)
X-posted to
cucurbitaceae


I wanna eat it. ;)
Went to the local Yankee Candle outlet today to score some candles. The outlet also had lip balm, one flavor which was Spiced Pumpkin. It's fucking awesome. :)